Recycling & Sustainability
Turning your office into a globally-friendly working environment is not as hard as it seems. Some of us who are environmentally conscious at home are now starting to bring this awareness to work – but in many cases, we don't know where to begin.
Well we have some good news, part of the many benefits we provide is to help guide our clients on how to be eco-friendly in the office.
Green Office Suppliers
Choosing one of the most well-established green office suppliers is a great place to start. Global can supply your office, whilst ensuring our planet does not suffer along the way. Our low-emission delivery fleet will provide all your goods in 100% recycled packaging – on time, every time.
Every year, 250 million tonnes of harmful waste and emissions are created by UK offices. It is Global's mission to help reduce this figure, one office at a time. All of our clients receive their very own green catalogue – giving them the option to choose from the UK's largest selection of eco-friendly office products.
These include:
Office recycling & waste removal
Free toner collection & recycling service
Choose from over 2,500 eco-friendly alternatives
Eco-friendly toner cartridges
Streamline delivery schedule
100% recycled packaging
Enquire about our Green Office supplies & Recycling Services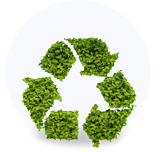 Recycling
Recycling is one of the easiest and most powerful things you can do to 'go green' at work – so why not let Global collect and recycle up to 96% of your office waste? Whatever you use, we can recycle it. From toner cartridges and glass, to plastic or cardboard, we're a one-stop-shop for all your recycling. We also have our very own range of eco-friendly remanufactured toner cartridges. Not only are they good for the environment, they are great on your budget too – contact us today to save up to 60% on your consumable spend. Our Eco office team can help advise you on how to go green at work, the many services we provide will all reduce your carbon footprint from the very first order.