Secure Paper Shredding
What's the most costly security risk your business faces? You may be surprised to learn that it's identity theft.
Identity theft has become a huge problem. In the UK alone it's estimated that the cost of this type of crime is increasing at a rate of 500% every year and has already cost our economy a huge £2.7bn.
It's scary to think that in the wrong hands the information your business stores could contribute to this.
Store it, shred it
Under the Data Protection Act you have a duty to ensure that customer, staff and supplier documents are stored and disposed of securely to prevent criminals from exploiting the data they hold.
One simple way you can ensure your paper records are untraceable is to shred them.
We'll work with you to identify the best shredding solution for your business, taking into account the volume of documents you need to dispose of and your budget. If in-house shredding is feasible we can recommend one of the 80 plus shredders in our catalogue – many of which shred staples, paperclips and even CDs!
Enquire about our paper shredding services today
Our secure shredding solution
For businesses with larger volumes or limited resources, we have a secure outsourcing solution that you can rely on. Global Office Supplies' simple 4-step shredding solution takes the hassle and worry out of complying with the Data Protection Act.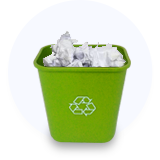 Step 1 – Fill up
We supply secure receptacles for your unwanted paper documents. Depending on your needs this could be in the form of lockable wheelie bins or secure sacks. All you need to do is fill up your chosen container with items to be shredded, no need to remove staples or paperclips!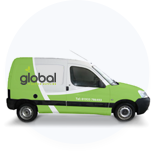 Step 2 – Collect
Just let us know when your containers are full and we'll come and collect them. Alternatively, we can schedule weekly, fortnightly or 4-weekly collection. You'll receive a certificate after every collection for your records.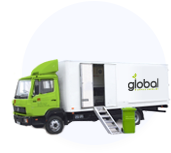 Step 3 – Shred
Our mobile shredding trucks give us the ability to shred your documents on-site as soon as we collect them or we can immediately take them away to one of our secure shredding facilities. It all depends on your security requirements.
Shredded documents are given new purpose in our secure recycling facility where shredded paper is baled and sent to be transformed into new products such as kitchen paper or facial tissues.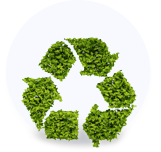 Step 4 – Recycle
Each step of the process has a robust audit trail, giving you peace of mind that you are disposing of sensitive data in a legal, responsible and environmentally conscious manner.